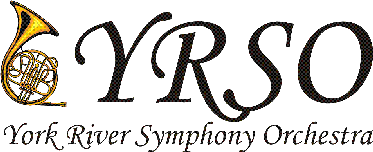 Clippings & Reviews
Hampton Roads, January 2004
Chrismas with the York River Syphony Orchestra: Lorraine Bell Sings
by John Campbell and Steve Brockman/Artsong Update

&nbsp&nbsp&nbsp&nbsp&nbsp As we look around the Yoder Barn we see the structure of wooden supports that give the unique curvature to the roof of what once was a working dairy barn and is now a performing arts hall in Newport News. We had come to hear the York River Symphony Orchestra - a group of sixty to sixty-five volunteers who are celebrating twenty years of bringing music to their community.
&nbsp&nbsp&nbsp&nbsp&nbsp The Winter Festival, led by conductors Ann Arogdale and Eric Reiff on Sunday, December 20 & 21, 2003, presented holiday favorites in classic arrangements, some from the fifties and sixties, such as Leroy Anderson's Sleigh Ride and A Christmas Festival. It was exciting to hear once again the purity of these arrangements from our childhood, but what was even more intriguing was the new music by local composers Jeraldine Saunders Herbison and Adolphus Hailstork.
&nbsp&nbsp&nbsp&nbsp&nbsp Ms. Argodale, music director, opened the program with Tchaikovsky's Nutcracker No. 1, which was followed by Mrs. Herbison's Three Movements for Winter: Winter Walk, Skating on a Frozen Pond and Snowball Fight. This lively, attractive holiday music was well played and well received by the audience. Readers of this newsletter will recall that Mrs. Herbison, a composer of note, has written some lovely art songs. She plays violin in the orchestra and is a lifelong music educator.
&nbsp&nbsp&nbsp&nbsp&nbsp Lorraine Bell, soprano, singing Dr. Hailstork's art song Christmas Everywhere followed. This song seemed straightforward and simple but, like most of his songs, it offered the singer subtle challenges and kept this listener intrigued throughout. Dr. Hailstork serves on the music faculty of Old Dominion University.
&nbsp&nbsp&nbsp&nbsp&nbsp Assistant conductor Eric Reiff led an excellent performance of the Prelude from Hansel and Gretel by Engelbert Humperdinck, with the orchestra especially polished in this piece. The program included an arrangement by Holcombe, The Festival of Hanukkah. The first half ended with the glorious sound of G.F. Handel's Rejoice Greatly, sung by Mrs. Bell, who recently completed a course in baroque music at Shenandoah University where she is working toward a Doctorate in music. Her enhanced understanding of Baroque performance, with enriched ornamentation and vital rhythmic understanding was apparent as her voice danced through this holiday favorite.
&nbsp&nbsp&nbsp&nbsp&nbsp Mrs. Bell returned to sing The Christmas Song by Mel Tormé, arranged by Tommy Newsom, after the orchestra opened with Leroy Anderson's A Christmas Festival. They followed with Frosty the Snowman. The YRSO flutes then played a set of familiar Christmas carols. After Irving Berlin's White Christmas and Anderson's Sleigh Ride and Bring a Torch, Jeanette Isabella (arranged by Davis), the orchestra played a holiday sing-a-long with a surprise: Lorraine Bell came out to lead us. It was a real Christmas experience, combining old and new music in a fine mix.
---
NEWPORT NEWS, VIRGINIA, OCTOBER 12, 2003
Cello concerto for the living room Hampton composer has ready audience with her cellist husband
by David Nicholson/Daily Press
Hampton composer Jeraldine Herbison knows that any piece she writes for cello will get performed - at least in her living room. Her husband, Jim, is a cellist who teaches at Norfolk State University and performs with the Virginia Symphony.
But her Cello Concerto has made the rounds. The work was commissioned by the Afro-American Chamber Music Society of California and given its first performance out there. Next weekend, Jim will give the work its first Virginia hearing when he performs it with the York River Symphony Orchestra.
"The only thing I regret is that I want to be in the audience listening to it," says Jeraldine, who plays viola in the York River group. "Instead, I'm going to be too busy playing it."
Throughout the Herbisons' lives, music has been a recurring theme. They met more than 30 years ago at Hampton University, where he conducted the Hampton Institute Community Orchestra (HICO), as it was called then, and she played principal violin.
Since then, they've balanced careers in musical education with performances together in the HICO String Quartet that Jim founded. In 1998 Jeraldine retired as a string teacher with the Newport News public schools, and now she teaches privately and plays viola in the York River orchestra.
Retirement has given Jeraldine more time to compose. Her output includes a variety of works for voice, small ensembles and orchestras.
When musical ideas pop into her head, she jots them down in one of several notebooks she keeps handy. Before beginning a piece, she'll pull out the books and work with ideas for a while. She may try them out on an instrument to see what they sound like. For larger works such as the cello concerto or a symphony, she uses a computer music software program called Finale.
"I've written lots of works for cello because I know I can get them played," she says, looking over at Jim.
Concertos for solo instrument and orchestra are usually scored in three movements, but Jeraldine added another movement because she had four ideas she wanted to use. The theme for the first movement was taken from an earlier quintet she wrote after the death of her father. Then the movement lightens up in the second movement, which has a waltz-like theme that suggests dancing.
An American folk theme dominates the third movement, which omits the orchestra's strings and pairs the cello with woodwinds and percussion. Finally, she gives the last movement a jazzy feeling by making the cello sound like a saxophone.
"I was trying to bring out my jazz roots, at least that what it sounds like to me," says Jeraldine. "The audience may hear something totally different, and that's all right."
[Ann] Argodale, [music director of the York River Symphony Orchestra] too, heard lots of folk sounds in Jeraldine's piece. So she paired the concerto with works by Brahms and Dvorak, two composers known for including folk melodies in their music.
"Jeraldine has a knack for writing folk-like, accessible melodies which stay with you," says Argodale. "At the same time, the concerto is a virtuoso piece for the soloist, and Jim plays it beautifully."
Jim can attest to the demands of the piece. Looking at an earlier version of the concerto, he remarks, "Oh, that's a lot easier than it is now."
For the Herbisons, composing can have a collaborative aspect as well.
"When I write for the cello, I write the music, and then I ask Jim if it is playable," she says. "He helps me rearrange chords. And he shows me harmonies for the cello."
Jim feels the cello concerto fits the instrument well, and he's pleased to be able to perform it.
"Early on, we used to do a lot of programs and workshops together," says Jim. "But as time went on, we haven't done it as much." "It's nice to get back to it."